Billfold vs. bifold wallet; which is superior?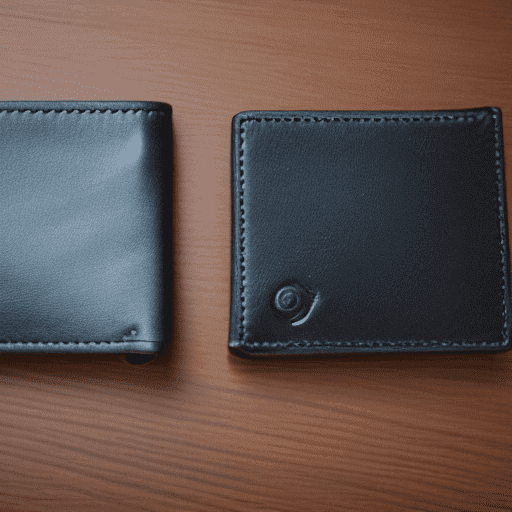 Do you know the difference between a billfold and a bifold wallet? If not, you're not alone. Many people don't know the difference, partly because the terms are used interchangeably. But there is a distinction, and it's an important one. This post will cover the differences between billfold and bifold wallets to ensure you can choose the right product for your needs.
Keep reading for more wallet insight to guide your decision.
Looking for a new wallet? Make sure to shop our vegan leather bifold wallets before you go!
What's a Billfold Wallet?
A billfold wallet is a type of wallet with two compartments, one for bills and one for coins. It is typically made of leather or fabric and may have a snap or zipper closure. Billfold wallets are often slimmer than other wallets, making them easier to carry in a pocket. Many people prefer billfold wallets because they can keep their cash and coins organized and separate.
There are several considerations to keep in mind when choosing a billfold wallet. First, think about what material you want your wallet to be made from. Leather is popular for its classic look, but fabric wallets are often lighter and more affordable. Also, keep in mind, cruelty-free leather alternatives exist and should be used over traditional leather whenever possible!
You'll also want to consider the size of the wallet and how many compartments it has. If you carry a lot of cash or cards, you may want a wallet with more space. A billfold wallet with multiple compartments can help you keep your things organized.
Love this post? Make sure to learn about the best wallet for men before you go!
What's a Bifold Wallet?
A bifold wallet is a kind of wallet that folds in half, typically along a vertical seam. Bifold wallets usually have two compartments, each of which can hold one or more cards.
Some bifold wallets also have a coin compartment for storing loose change. Bifold wallets are slim and compact, making them easy to carry in a pocket or backpack.
Many people prefer bifold wallets because they hold cash and cards securely while still looking aesthetically pleasing. You can find them in many additional colors and styles made of leather, plant hide (vegan leather made from plants) fabric, or synthetic materials.
When picking out a bifold wallet, carefully contemplate what you need and want. Elements to mull over are the size of the wallet, its number of sections, and its form of closure. Wallets also come at a variety of price points, so keep in mind that it's always possible to find a bifold that doesn't break the bank.
What's a Vertical Bifold Wallet?
A vertical bifold wallet is a type of wallet that has two main compartments, each of which can be opened independently. This allows you to easily access your cash and your cards without opening the entire wallet. Additionally, vertical bifold wallets usually have some other pockets and compartments for storing things like receipts, coins, and other small items.
For one, vertical bifold wallets tend to be much more slim and compact, making them easier to carry in your pocket. Additionally, they often have more storage capacity than horizontal wallets so that you can keep more cash and cards on hand. And let's not forget, they look pretty darn cool, too.
The only downside to vertical bifold wallets is that they can be a bit more difficult to open, as you have to open each compartment separately. However, this is typically not a major issue and the benefits of a vertical bifold usually outweigh the cons.
Billfold vs. Bifold FAQ
What is the difference between a wallet and a billfold?
A wallet is a small, flat case that can be used to carry money and credit cards. A billfold is a larger, thicker wallet designed to hold bills. Both wallets and billfolds can be made from various materials, including but not limited to traditional leather, vegan leather, fabric, or plastic.
Why is a wallet called a billfold?
The word "billfold" originates from the fact that early wallets were created to contain bills (paper money) in a fold. Despite this, many people still employ the term billfold to refer to a wallet, even though it isn't exclusively utilized for that purpose.
What is the difference between a bifold and a trifold?
A bifold wallet is a kind of wallet that folds in half, while a trifold wallet folds into thirds. Bifold wallets typically have two compartments for cards and cash, while trifold wallets often have three or more containers. Trifold wallets may also have additional features, such as a coin pocket or ID window.
Final Thoughts on Bifold vs. Billfold
So, what's the verdict? Bifold or billfold? The answer is… it depends.
Both wallets have pros and cons, so you'll need to decide which factors are most important to you. If you want a slim and easy wallet to carry around, go for a bifold. But a billfold might be a better option if you're looking for more storage space.